Background/Issues
Casco Bay's extensive eelgrass meadows, productive mudflats, rocky intertidal areas, and fringing salt marshes provide critical habitat for many species of fish and wildlife while providing other benefits like flood absorption, nutrient removal, and resilience to climatic extremes.
Casco Bay is fed by numerous small coastal streams and a handful of larger rivers which deliver fresh water, sediments, nutrients, and other materials to the bay.  These waterways also host diadromous fish (fish that migrate between the bay and fresh water bodies), delivering nutrients and a source of food to interior waters.   The long-term health of Casco Bay depends on the continuation of these habitats as well as connectivity between aquatic habitats, to ensure that organisms are able to migrate, withstand climatic extremes and sea level rise, and maintain their populations in the face of stressors.
Historic and current human activities have degraded these habitats, and the impacts vary by ecosystem:  eelgrass beds are vulnerable to excess nutrients and poor water clarity; dammed rivers create communities that more resemble a pond's than a river's; tidal flows into salt marshes have been blocked or diminished by the construction of roads, railroads, and dikes, starving marshes of critical sediment supplies; poorly maintained septic systems continue to contaminate shellfish beds and restrict shellfish harvesting.
Casco Bay Estuary Partnership (CBEP), working closely with partner organizations and local communities, allocates resources toward focused efforts that result in the protection, restoration, and enhancement of aquatic habitats that sustain the Bay's health.  Some of these efforts are aimed at relieving or reversing human impacts.  Specific areas of focus include:
Conserving significant coastal habitats and areas that protect water quality, such as river corridors, wetlands, and headwater forests. CBEP's Habitat Protection Fund provides funding to land trusts, municipalities, and agencies for costs associated with land acquisition that results in the permanent protection of high value habitats.  Funds are typically used in high-leverage situations, such as for seed funding on larger grant proposals, for early project "risk money," or assessment and transaction costs.  CBEP also provides direct financial support for habitat analyses by contractors affiliated with the U.S. Fish and Wildlife – Gulf of Maine Coastal Program office in Falmouth.  The resulting reports are often important components of proposals for state and federal grant funding.
Restoring and enhancing coastal habitats. CBEP can provide technical assistance (assessment, monitoring, analysis), grant writing, small grants, and coordination to local communities and other partners for specific projects such as tidal restoration (culvert replacement) or eelgrass transplants that aim to restore or enhance high value coastal habitats.  Often, project goals help both human and ecological communities become more resilient.
Restoring aquatic habitat connectivity. Barriers such as dams and undersized culverts along streams and rivers often result in the fragmentation of these water bodies into isolated reaches. These barriers reduce or shut down river processes that provide for the movement of flood waters, fish and aquatic organisms, sediments, and wood through a watershed enroute to the Bay.  CBEP is working with partners on improving connection between aquatic habitats, particularly where barriers restrict the movement of fish such as river herring and shad that move between Casco Bay and critical freshwater spawning habitat.
Piloting new methods of enhancing ecosystems.  In other parts of North America, artificial oyster reefs, 'living shorelines', and other innovative practices are employed in estuaries to improve water quality, protect coastal properties, and enhance habitat.  Many of these methods are completely new to Maine.  To assess their potential, CBEP is helping to explore novel methods like these through collaborative partnerships and pilot projects.
Current Projects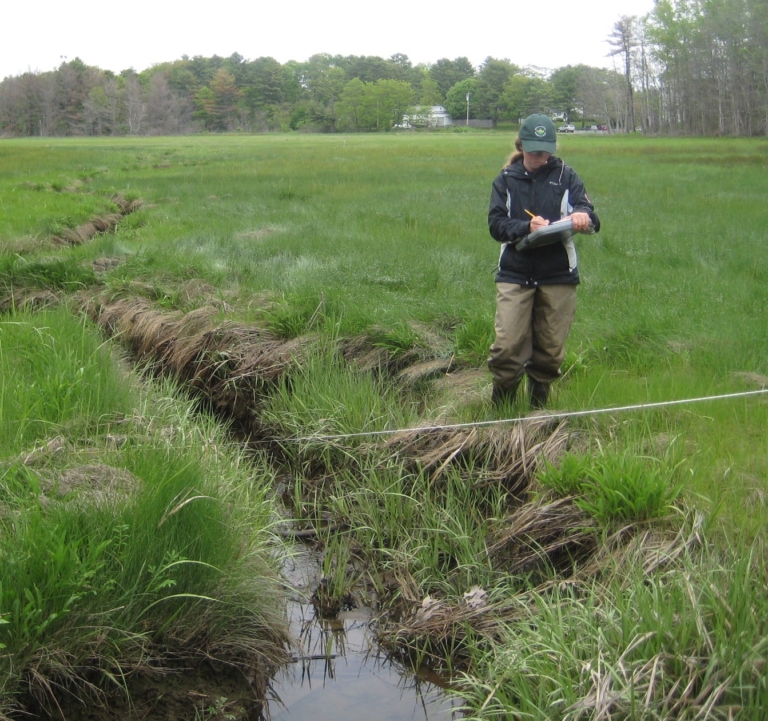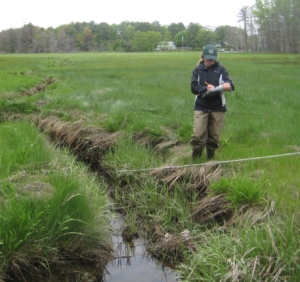 Tidal restoration into salt marshes. In recent years, CBEP staff have lead or partnered on several tidal restoration projects in Casco Bay's salt marshes.  Projects such as the Thomas Bay Marsh restoration project at Adams Road in Brunswick, in which an undersized and corroded culvert was replaced with a larger aluminum pipe arch, have enhanced the Bay's salt marshes by providing more frequent and extensive tidal inundation into upstream wetlands, delivering salt and sediments to areas and in the process, enhancing system resilience to stressors such as sea level rise.
Living shorelines pilot project. Through a collaborative project with the Maine Coastal Program at DMR, the Maine Geological Survey, The Nature Conservancy, Maine Coast Heritage Trust, and local municipalities, four 'living shoreline' demonstration sites will be constructed at sites around the Bay in the spring of 2019.  Where suitable, living shorelines, which are typically constructed of natural materials such as wood, rocks, shell, and plants, can be used to stabilize eroding coastal banks while providing ecosystem benefits. Unlike hard shorelines like seawalls or rip-rap, which impede the growth of plants and animals, living shorelines are intended to grow over time.  CBEP staff will be monitoring these demonstration sites to evaluate their effectiveness and providing data to state and federal regulators in the hope that their use will expand in Maine.
For More Information
Contact Matt Craig, CBEP Habitat Program Manager, Matthew.Craig@maine.edu, (207)228-8359.