Casco Bay's productive waters and mudflats support a variety of shellfish species, including softshell clams, blue mussels, and quahogs. For many residents and commercial diggers around Casco Bay, shellfish harvesting represents an important tradition and source of livelihood. The health of the Bay's shellfishery not only affects the region's economy and way of life, but it can also be an indicator of overall ecosystem health and water quality.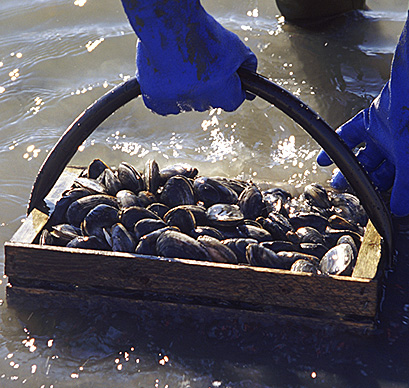 THREATS TO CASCO BAY'S SHELLFISH BEDS AND SWIMMING AREAS: NUTRIENT AND BACTERIA POLLUTION
Nutrients like nitrogen are critical for the growth of marine plants, but over-enrichment of nutrients is a form of pollution that causes excess algae growth, depleting the dissolved oxygen that shellfish and other marine life need to survive. Bacterial contamination of shellfish beds poses a public health threat if contaminated shellfish are consumed. Swimming in polluted waters can also cause illness.
Sources of nutrient and bacterial pollution in Casco Bay include malfunctioning or improperly maintained septic systems; overboard discharge systems that incompletely treat sewage; municipal and industrial waste discharges; illegal sewage discharge from boats; and polluted stormwater runoff.
STATUS OF CASCO BAY'S SHELLFISH BEDS
Recent decades have seen a regulation of fecal pollution inputs to Casco Bay, as government agencies have helped remove overboard discharges, worked to separate combined sewers, and designated Casco Bay as a No Discharge Zone (making it illegal to discharge human waste from boats) in 2006.
Nonetheless, fecal bacteria levels are high in many areas, and restrictions on harvesting shellfish remain. In 2009, shellfish harvesting remained prohibited at all times throughout much of southern Casco Bay and in parts of eastern Casco Bay because of the high risk of pollution. On the other hand, portions of the New Meadows River as well as sections of Maquoit Bay that were closed to harvest in 2004 had been reopened by 2009.
STATUS OF CASCO BAY'S BEACH MONITORING PROGRAM
The Maine Healthy Beaches (MHB) Program is a US EPA-funded partnership started in 2003 to ensure that local beaches are safe and clean. Municipalities, the University of Maine Cooperative Extension/Sea Grant, state agencies, and nonprofits participate in beach monitoring, data analysis, and public outreach.
MHB currently monitors 60 coastal beach management areas, including three beaches in Casco Bay considered high-priority due to volume of use and potential risk of contamination. (Many swimming spots around Casco Bay are not monitored.) Managers post beach status online and use color-coded signs and flags at the beaches to indicate risk level. For more information, visit www.mainehealthybeaches.org.