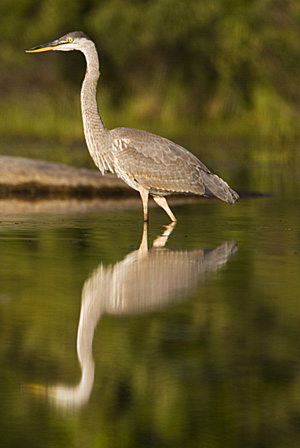 Habitats are places where plants and animals live, feed, and reproduce. The Casco Bay watershed includes many productive habitat types, including upland forests, riparian areas, salt marshes, seagrass beds, tidal mudflats, and rocky outcrops. Those habitats are home to a diversity of species — from lobsters and clams to beaver and moose.
HABITATS OF THE CASCO BAY WATERSHED
Due to its wide tidal variations and varied underwater topography, Maine has the most extensive intertidal habitat (the area between high and low tides) found along the US Atlantic Coast. Salt marshes along Casco Bay's edge provide critical habitat for wildlife, filter stormwater from upland development, act as buffers during storms, and reduce damage from flooding. Below the low-water line, subtidal habitats abound with plants and animals. Casco Bay has the largest and densest concentrations of eelgrass mapped along the coast of Maine: more than 8,000 acres in total. Freshwater systems — including 1,350 miles of rivers and streams as well as many lakes — support a variety of fish species like alewife, trout, perch, and pickerel, as well as birds and mammals. Upland forests throughout the watershed provided habitat for Maine's native animals.
THREATS TO HABITAT
Casco Bay and its watershed continue to provide valuable habitat for a range of fish and wildlife species. But habitat has been lost or degraded by human activity, especially suburban development. In addition to fragmenting or destroying habitat, land development increases impervious cover, causing higher volumes of pollutant-laden stormwater to run into streams, rivers, and coastal waters. Humans also affect habitat by inadvertently introducing invasive species, which can edge out native species for space and resources, reducing biological diversity. Global climate change is likely to alter habitat characteristics (including temperature and precipitation), disrupting native species and opening habitats to invasion from non-native organisms.