Community Grants Program 2018 RFP Available
Download the 2018 Community Grants RFP here (includes fillable application). Download a separate printed application form here.
Deadline: Midnight on Monday, February 26, 2018
---
2017 Casco Bay Community Grant Awards 
Six awards were made, for a total of $10,000, for projects in Brunswick, Chebeague Island, Harpswell, Phippsburg, and Portland.
Through the Casco Bay Community Grants Program, CBEP seeks to encourage new partnerships and innovative projects that engage communities with Casco Bay and its watershed, and that are tied in with the 2016 Casco Bay Plan. The following 2017 Casco Bay Community Grant awards were made: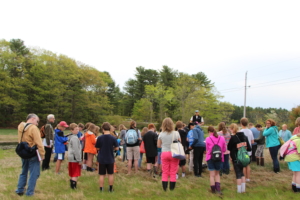 Brunswick Junior High School, "Connect Casco Bay": The seventh grade Jewell Island Team will engage in a four-week community-based, expeditionary learning unit to help students understand the fragility of Casco Bay and their duty to care for it.
Chebeague Island Community Association, "Chebeague Island Aquaculture Festival": A one-day festival on the island will educate community members about aquaculture farms in the community, as well as raise awareness of the importance of water quality to these operations.
Friends School of Portland, "Inter-generational Investigation of the Casco Bay Watershed": Students will learn about and test water quality, and interview seniors about their connection to Casco Bay.
Harpswell Heritage Land Trust, "Engaging Youth with a Junior Ranger Program": An initiative to engage local youth and families with Harpswell's coastal environment through a junior ranger program.
Kennebec Estuary Land Trust, "Community Conservation of a Phippsburg Clam Flat": The project will bring together community partners to educate Phippsburg youth about the town's important natural resources and actions they can take to improve these resources.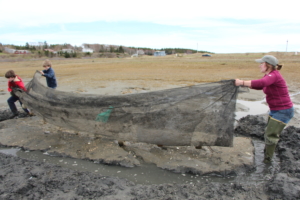 Maine Coast Fishermen's Association, "Climate Change through the Eyes of Shellfish Harvesters": A video will explore how environmental changes have impacted the Harpswell shellfishing industry.
Casco Bay Estuary Partnership Habitat Protection Fund
CBEP funds are available to support the protection of high value habitat in the Casco Bay watershed. An RFP is announced annually; please check the "Announcements" section of the Home Page for a current RFP.
Fall 2018 Habitat Protection Fund Grant Awards
CBEP is awarding $39,000 to five organizations to support the permanent protection of targeted habitats in the Casco Bay watershed through its CBEP Habitat Protection Fund. The Fund provides cost-sharing grants to support transition and acquisition costs.
The following projects were awarded funding:
Rines Forest II, Cumberland, Chebeague and Cumberland Land Trust. This 53-acre acre parcel is adjacent to the 216-acre Rines Forest in the Piscataqua River watershed, in the heart of a three-town green corridor for wildlife and conservation with high value wildlife habitat.
Riverfront Woods Preserve Project, Yarmouth, Royal River Conservation Trust and the Town of Yarmouth. Funds are going towards the purchase of the 24-acre Dugas parcel on the Royal River, a stretch of river critically important because it connects Casco Bay's significant habitat to resilient riparian zones upriver.
Robinson Pond South, Cape Elizabeth Land Trust. This roughly 52-acre parcel borders on a 7.5-acre pond, providing important habitat for inland and tidal waterfowl as well as a variety of native birds, plants and animals. It also protects low-lying coastal land predicted to be a future marsh migration corridor.
Scribner Lot, Otisfield, Western Foothills Land Trust (WFLT). This 46-acre forested parcel is adjacent to 271 acres owned by WFLT and has frontage on the Crooked River. The project will protect 2,817 feet of shoreline and 19.3 acres of wetlands.
Woodward Point, Brunswick, Maine Coast Heritage Trust (MCHT). This property has more than 10,000 feet of coastal frontage and 38 acres of ecologically diverse and commercially important coastal wetlands. It includes shore frontage on the New Meadows River and includes "the Bullpens," high-productivity clam flats. MCHT is partnering with the Brunswick Topsham Land Trust to acquire this property.