Every five years Casco Bay Estuary Partnership reports on the health of Casco Bay and its watershed. Based on the best available data, the State of Casco Bay report analyzes indicators of ecological changes in water quality, habitat, and more.
Presented here are key findings for the South Bay.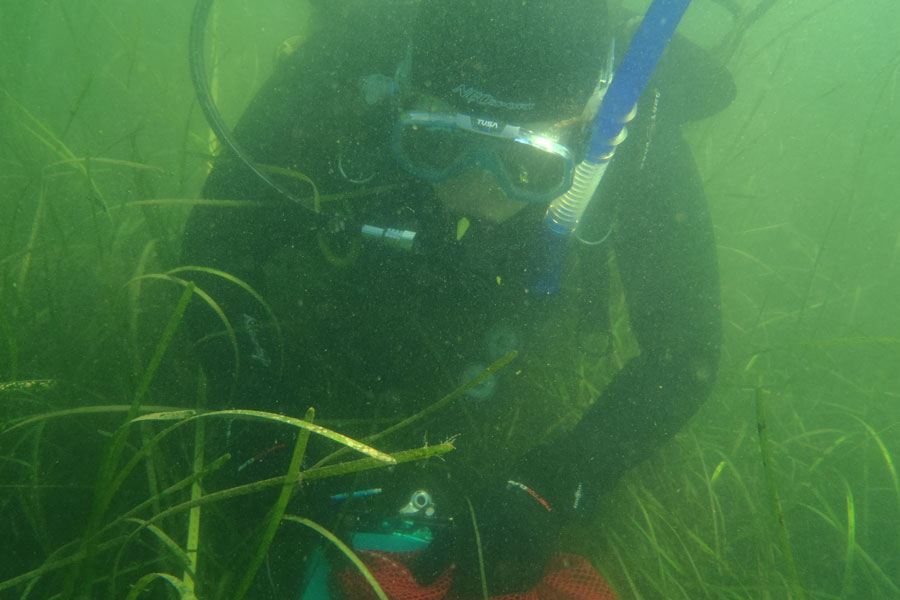 Mapping of Casco Bay's eelgrass beds in 2018 showed that most eelgrass beds in South Bay are stable, though some areas continue to decline from losses documented in 2013. See map below. Photo: DEP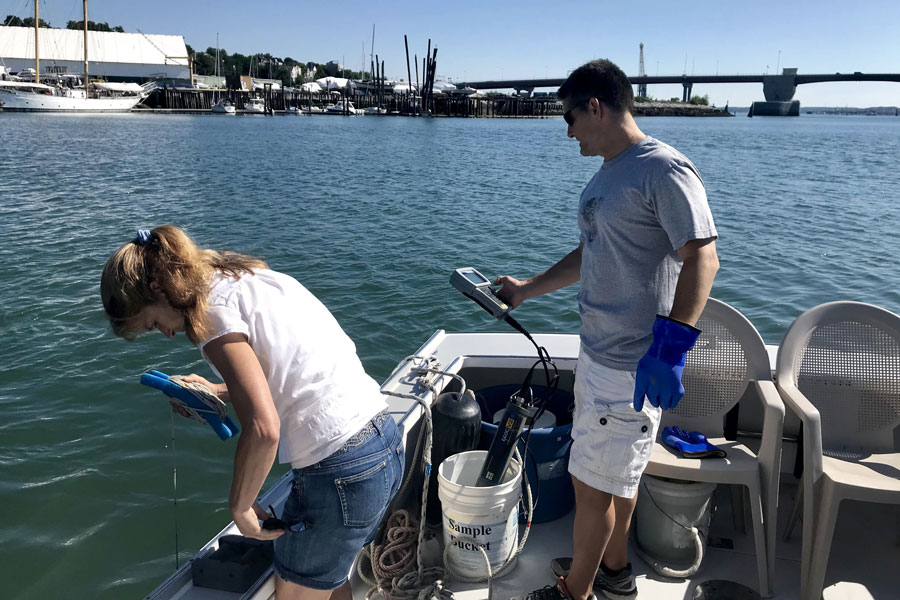 Indicator G: BAY WATER QUALITY
Low dissolved oxygen conditions can stress marine organisms, and oxygen is also an indicator of biological activity. Some of the lowest dissolved oxygen levels in the Bay have been recorded at the upper Fore River.
See map below.
Photo: CBEP

Indicator C: COMBINED SEWER OVERFLOWS
Discharges from Combined Sewer Overflows dropped by eighty percent over two decades, primarily due to community investments in improved infrastructure, which reduced the discharge of untreated sewage into the Bay.
See map below.
Photo: PWD
Toxics like polycyclic aromatic hydrocarbons (PAHs) are released into the environment and over time have settled into the sediments of Casco Bay. Concentrations of PAHs, which come from combustion of petroleum or other materials, have declined over the past 20 years, but are highest in the South Bay. Many other toxic contaminants show similar patterns.
Indicator F: INVASIVE SPECIES
Invasive species are organisms that are not native to a region but arrive there through human activity, become self-sustaining, and are likely to be harmful to the ecosystem. Monitoring of invasives by Wells National Estuarine Research Reserve from 2016 to 2020 typically observed 7 to 14 different invasive species at each of three South Bay sites.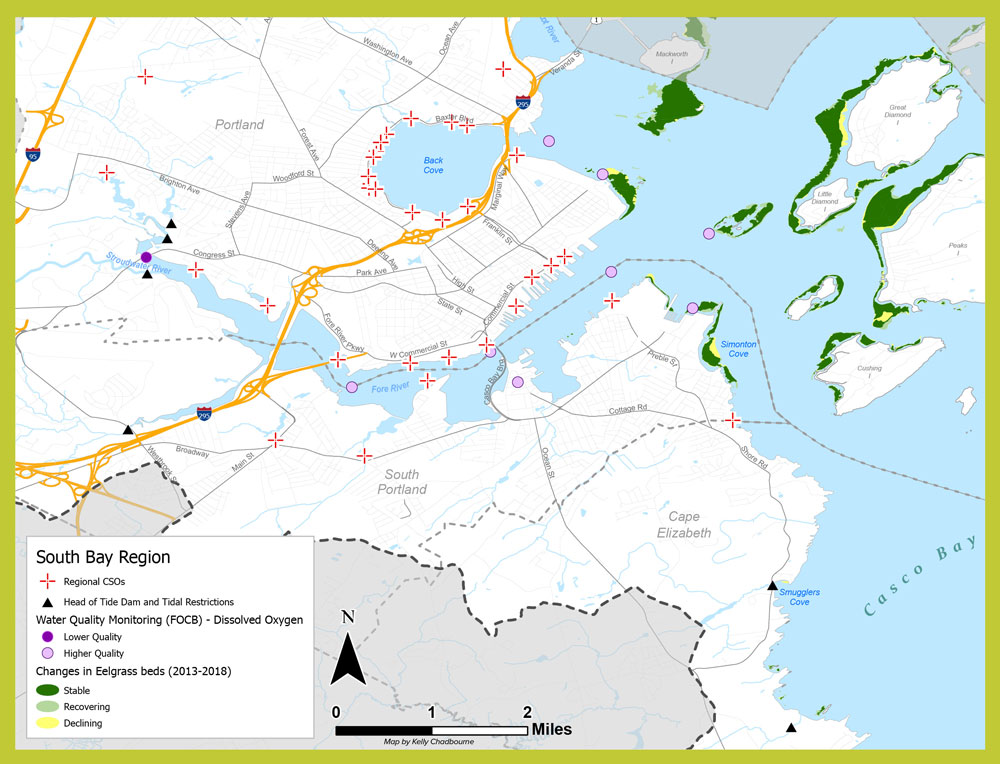 Watershed Management
The Long Creek Watershed, primarily in South Portland, is the land area that drains to Long Creek, which flows into Clarks Pond, the Fore River, and then to Casco Bay. Approximately 30% of the watershed is impervious surface. CBEP works with the Long Creek Watershed Management District (LCWMD), a public-private partnership that strives to manage water quality on behalf of about 130 landowners, with the goal of improving water quality in one of the area's most urbanized streams. LCWMD builds stormwater treatment structures, monitors water quality, and recently completed an in-stream restoration project along the mainstem.
Photo: LCWMD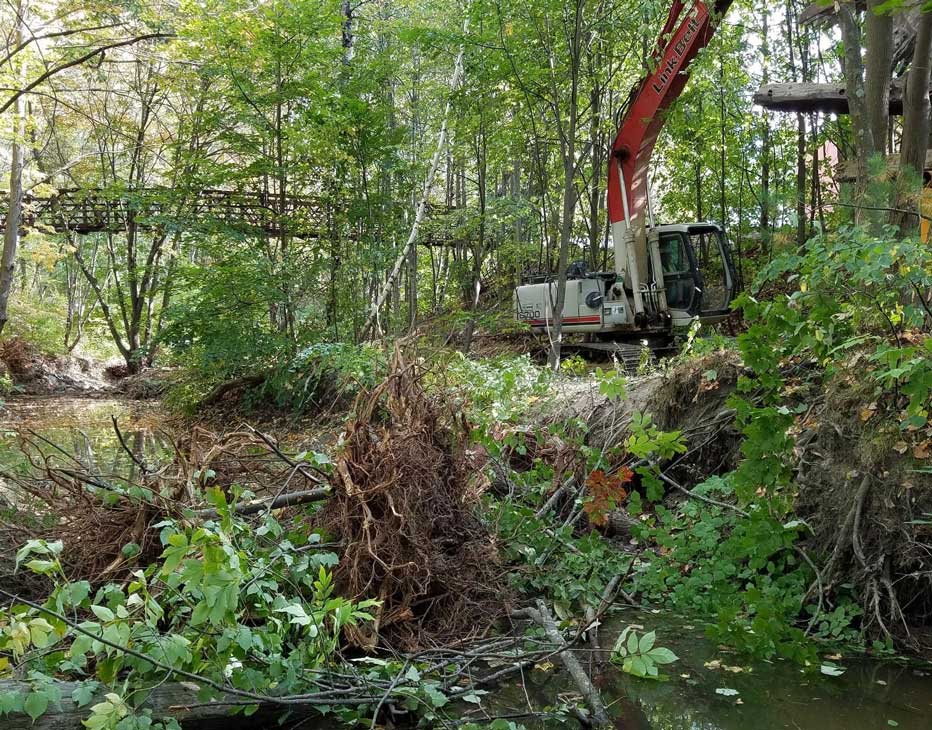 Citizen Science
For over 25 years, volunteers with Friends of Casco Bay (FOCB) have been collecting water quality information around the Bay. Originally the Water Quality Monitoring Program, supported by CBEP, trained citizen scientists to collect dissolved oxygen, pH, temperature and water clarity data at specified times during warmer months. When FOCB determined that continuous monitoring stations provided higher frequency data, the citizen science program was transitioned to Water Reporters. Documentation by these volunteers of their observations around the Bay have helped spur emergency responses to pollution and algal blooms, identified impaired streams, and provided evidence of climate change.
Photo: Kevin Morris, FOCB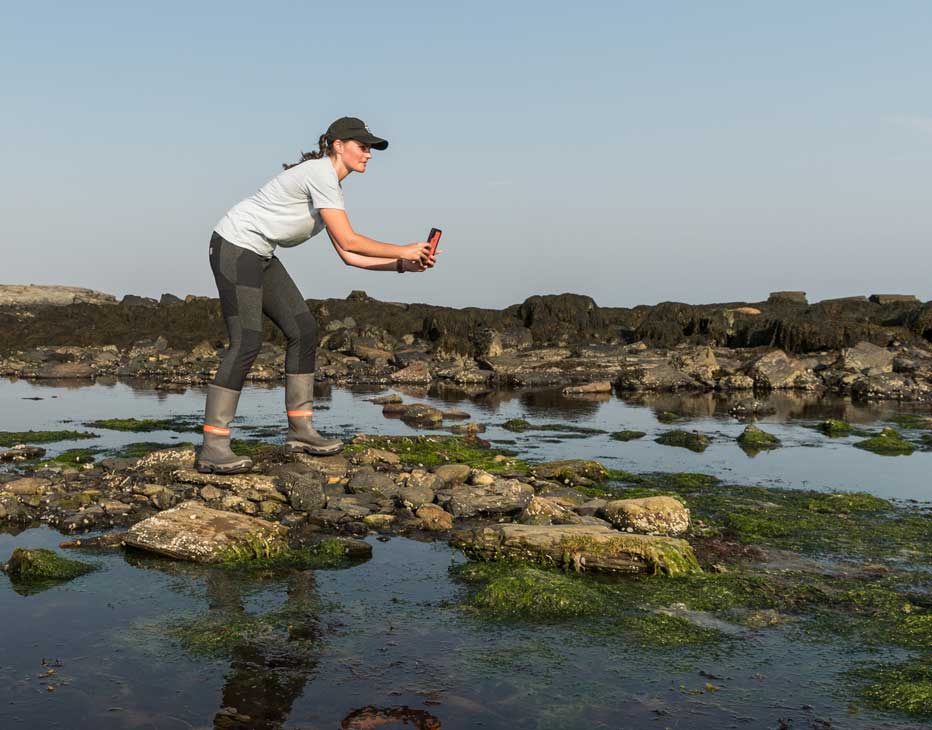 CONSERVED LANDS AND SUB-WATERSHEDS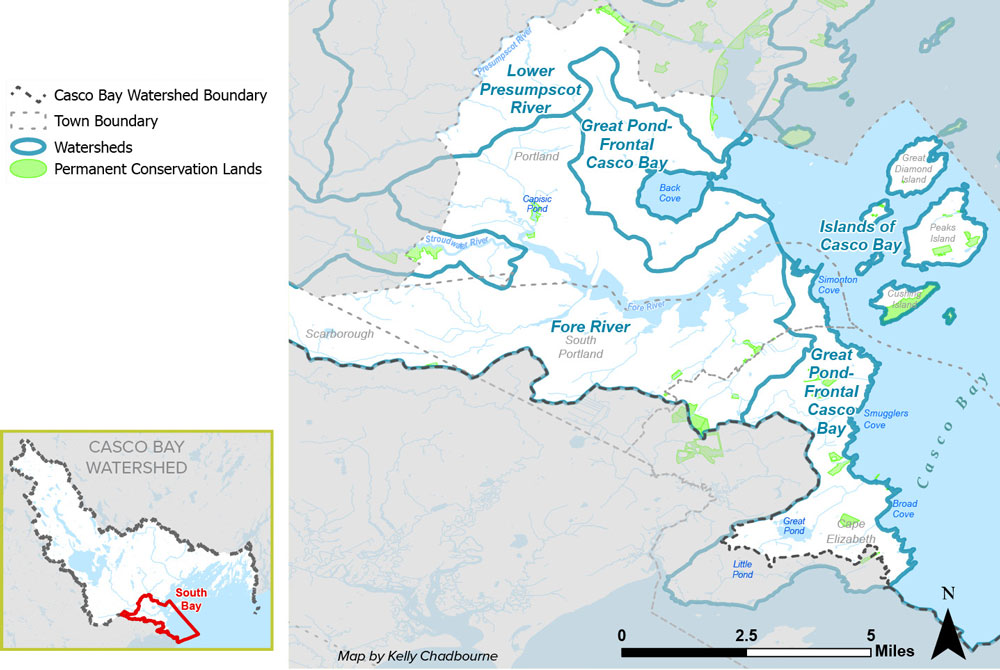 Preparing for Climate Change
Recognizing that climate change will affect coastal ecosystems, infrastructure, and the economy, leaders are joining together to build climate resilience. The cities of Portland and South Portland have adopted One Climate Future, a joint climate action and adaptation plan. This regional collaboration aims to strengthen local communities for the future. On the state level, Maine's four-year plan for climate action, Maine Won't Wait, lays out action steps "to prepare Maine people, communities, and environment for climate-related harms to come."
Improving Water Infrastructure
Portland, with support from CBEP, instituted a stormwater service fee, based on a property's impervious cover, which helps defray costs of stormwater programs and capital investments in infrastructure to reduce water pollution. Portland and South Portland are committed to improving Combined Sewer Overflow infrastructure by building separated stormwater and sewer systems or underground storage facilities. Portland Water District engaged in updates to the East End Wastewater Treatment Facility that have reduced summer discharges of nitrogen to the Bay by nearly three-quarters.
Ensuring Healthy Beaches
The South Bay region is known for its public beaches that provide ocean access to Maine's most densely populated metropolitan area. The Maine Healthy Beaches Program monitors bacteria at beaches to ensure that swimmers are safe. Increased number and severity of rain events associated with climate change may lead to elevated bacteria levels and more frequent beach closures. While beach closures remain uncommon, Willard Beach in South Portland has elevated levels of bacteria compared to other monitored beaches in Casco Bay.
Photo: Jerry Monkman, Ecophotography.com
View a PDF version of this page that can be downloaded and printed.
If you would like to receive a printed State of Casco Bay report, send an email request to cbep@maine.edu.
This document has been funded by the U.S. Environmental Protection Agency under Cooperative Agreements #CE00A00348-0 and #CE00A00662-0 with the University of Southern Maine.
Suggested citation: Casco Bay Estuary Partnership. State of Casco Bay, 6th Edition (2021).