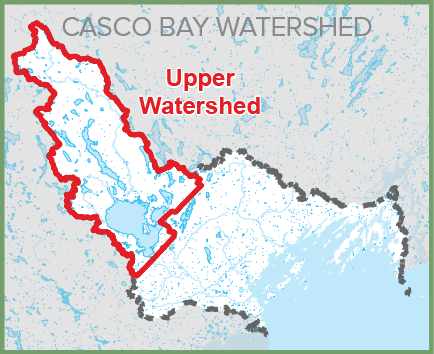 Upper Watershed Highlights
Every five years Casco Bay Estuary Partnership reports on the health of Casco Bay and its watershed. Based on the best available data, the State of Casco Bay report analyzes indicators of ecological changes in water quality, habitat, and more.
Presented here are key findings for the Upper Watershed region.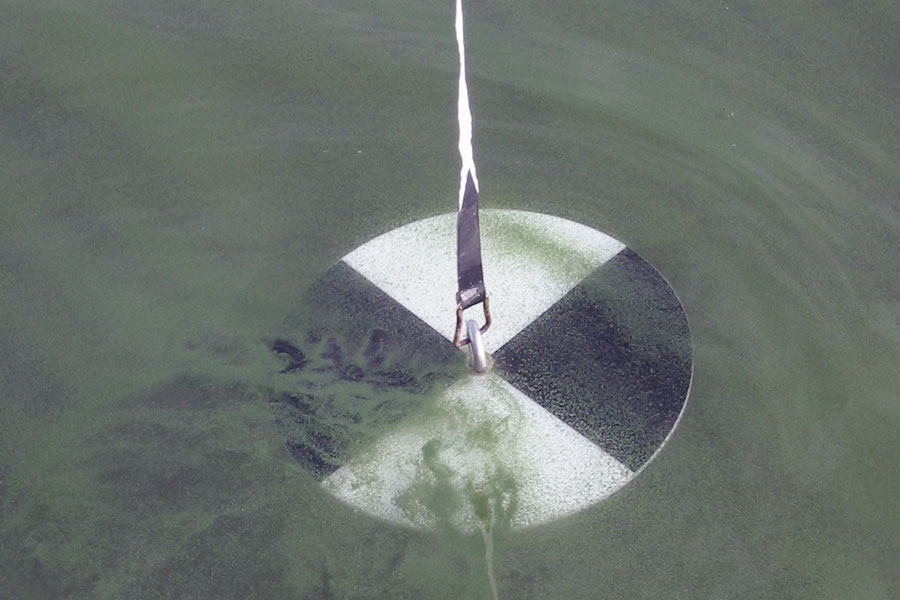 Indicator D: INLAND WATER QUALITY
Water clarity is measured by Secchi depth, based on how deep an observer can see a dinner plate-sized disk. Water transparency has been stable or slowly improving in five lakes in the Upper Watershed region.
See map below.
Photo: USGS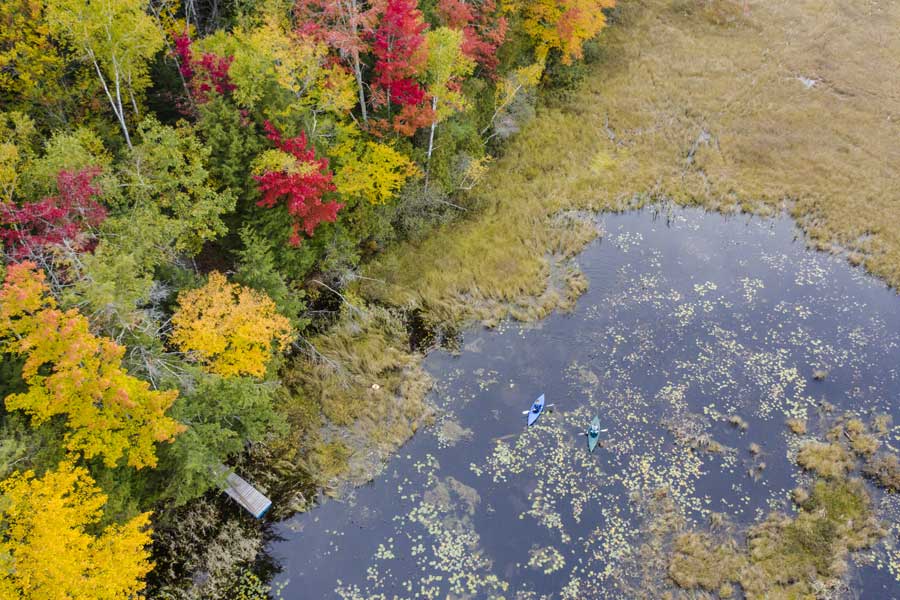 Indicator N: CONSERVED LANDS
The Upper Watershed region has one of the highest percentages of permanently protected lands in the Casco Bay watershed. A network of small, medium, and large tracts provides a diverse set of conserved habitats.
See map below.
Photo: Jerry Monkman, Ecophotography.com

Indicator D: INLAND WATER QUALITY
Most streams in the Upper Watershed are healthy. However, based on the composition of stream biota such as aquatic insects, a portion of Mill Brook near Pleasant Lake is considered to have low enough water quality to be classified as impaired.
See map below.
Photo: Jerry Monkman, Ecophotography.com
According to a 2017 economic study by the Maine Center for Business & Economic Research and CBEP, the Lakes Region is a significant locale for natural resources tourism and recreation, supporting $173 million in gross regional product, with the greatest seasonal increase in population in the Casco Bay region.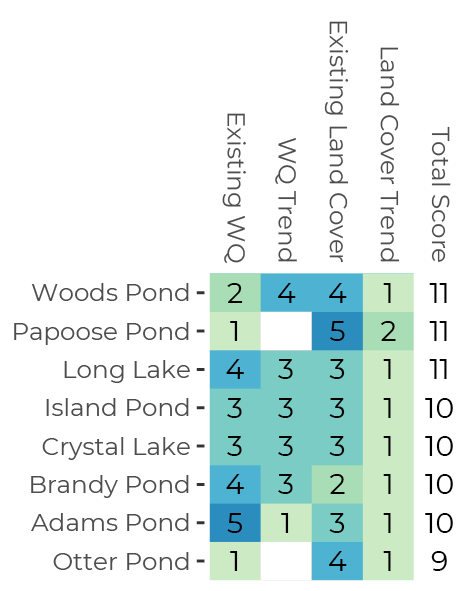 Indicator D: INLAND WATER QUALITY
Portland Water District's Lake Index is based on evaluation of water quality and land use, considering both existing conditions and long-term trends. The watersheds of lakes with the lowest index scores are seeing rapid conversion of forests, which help protect water quality, to other uses.
Education Programs
Organizations and educators in the Upper Watershed region are dedicated to providing opportunities for students to learn about and value their unique ecosystem. Programs offered by Portland Water District include TroutKids, through which students learn about water quality and have hands-on science and stewardship opportunities, and WaterWays, which teaches students about how we use, share, pollute, and protect water. Cumberland County Soil & Water Conservation District's CONNECT program focuses on clean water education with lessons, field trips, and service learning. Both organizations, other collaborators, and USM hold the Southern Maine Children's Water Festival annually, with support from CBEP. CBEP funded two projects by Lakes Environmental Association, "Headwaters Initiative: Exploring Our Watershed" and "Shift Living Connections 6th grade Program to Online Format."
Photo: PWD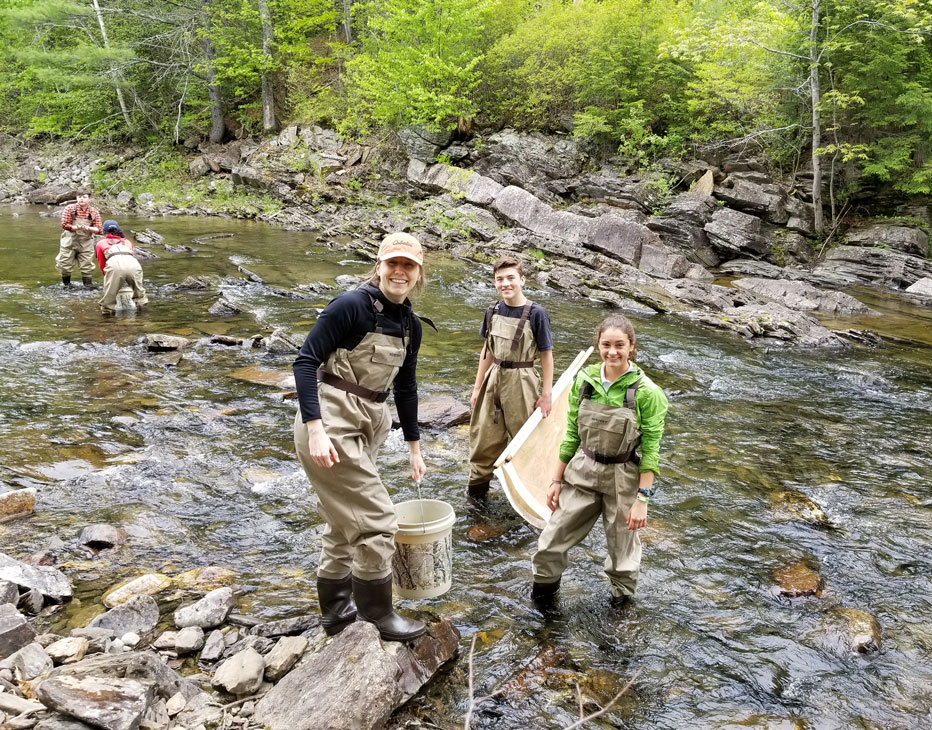 Community Collaboration
The Upper Watershed region has a long history of citizens and communities working together to protect natural areas, with the goals of ensuring clean water, climate resilience, robust ecosystems, and access to open space and recreation. Since 2000, CBEP has provided funding support to 14 habitat protection projects in at least nine communities by five different organizations. Land recently protected by Loon Echo Land Trust includes Perley Mills Community Forest, Edwards Forest, and Tiger Hill Forest. Land recently protected by Western Foothills Land Trust includes parcels aligned with the Crooked River and the Twin Bridges Preserve.
Photo: Jerry Monkman, Ecophotography.com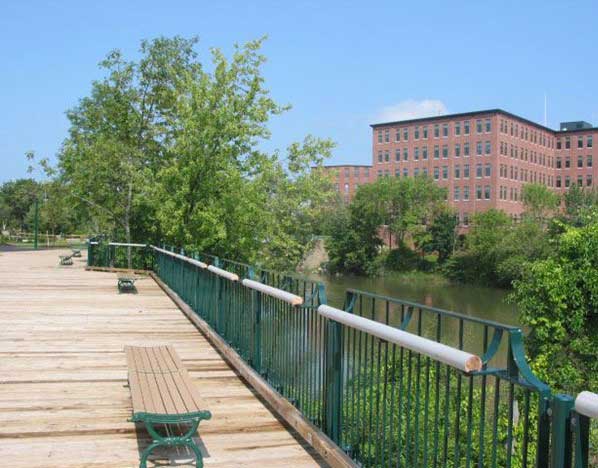 CONSERVED LANDS AND SUB-WATERSHEDS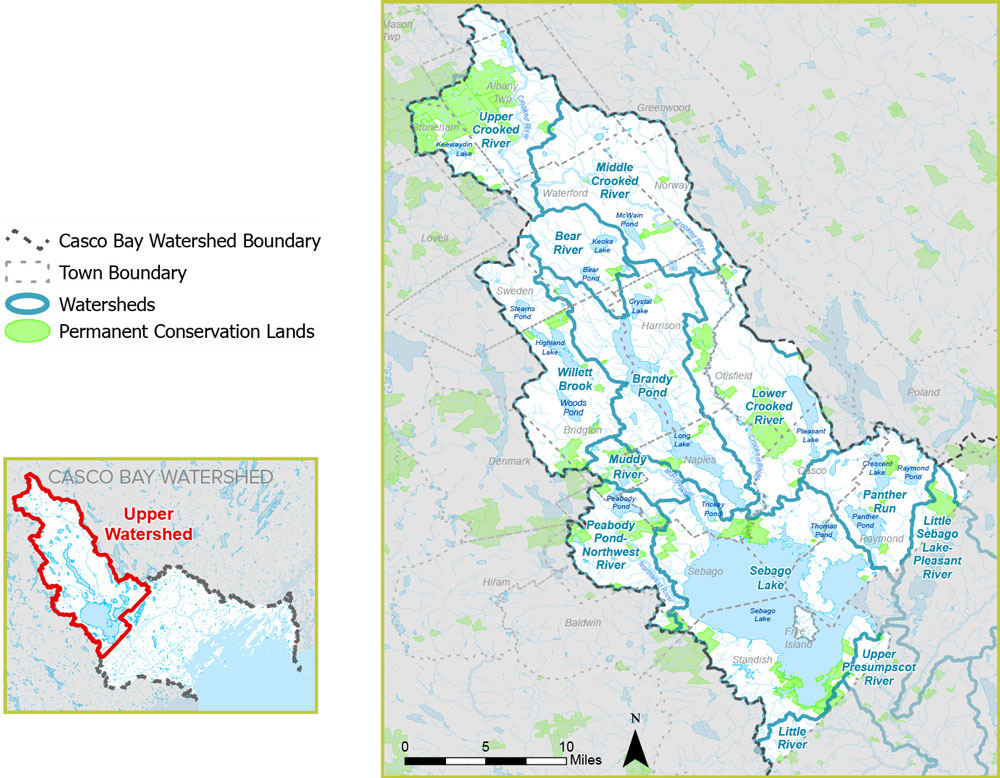 Protecting Quality of Drinking Water
Sebago Lake is used by Portland Water District (PWD) to provide drinking water to more than 200,000 people in Portland and our region. The surrounding forests and wetlands protect the quality of the lake and its sub-watersheds, but loss of forest threatens water quality. Sebago Clean Waters is a coalition of land trusts, businesses, and PWD to protect water quality, community well-being, and the health of fish and wildlife in the Sebago watershed through forestland protection.
Guarding Against Pollution
All of the region's fresh waters are polluted by trace levels of mercury, which can accumulate in the bodies of freshwater fish. A transition away from fossil fuels may help reduce mercury pollution. Nutrients like nitrogen and phosphorus can fertilize excessive growth of algae in water bodies, putting lakes at risk. Reducing the application of fertilizers to the landscape, proper upkeep of camp roads, and maintenance of vegetative buffers can mitigate the effects of nutrient pollution.
Furthering Tourism & Resource Protection
Much of the Upper Watershed's economy is based on tourism, because there are so many opportunities for outdoor sports and recreation like boating, camping, fishing, snowmobiling, and hiking. These activities are all ecosystem-dependent, so overuse and abuse can lead to degradation of the resource. Campaigns like Leave No Trace for trash and the Milfoil Team for inspection of boats and control of invasive milfoil, along with a prohibition against transporting firewood, are positive steps toward encouraging tourism while protecting its source.
Photo: Jerry Monkman, Ecophotography.com
View a PDF version of this page that can be downloaded and printed.
If you would like to receive a printed State of Casco Bay report, send an email request to cbep@maine.edu.
This document has been funded by the U.S. Environmental Protection Agency under Cooperative Agreements #CE00A00348-0 and #CE00A00662-0 with the University of Southern Maine.
Suggested citation: Casco Bay Estuary Partnership. State of Casco Bay, 6th Edition (2021).