Every five years Casco Bay Estuary Partnership reports on the health of Casco Bay and its watershed. Based on the best available data, the State of Casco Bay report analyzes indicators of ecological changes in water quality, habitat, and more.
Presented here are key findings for the Inner Bay.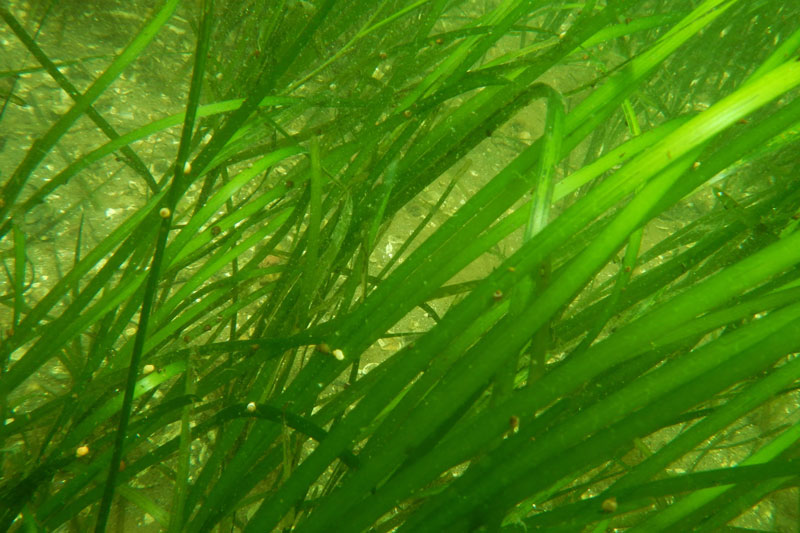 Casco Bay's eelgrass beds rebounded in 2018 following widespread declines documented in 2013. The majority of increased bed area was between the Royal River estuary and Middle Bay, where eelgrass acreage tripled.
See map below.
Photo: DEP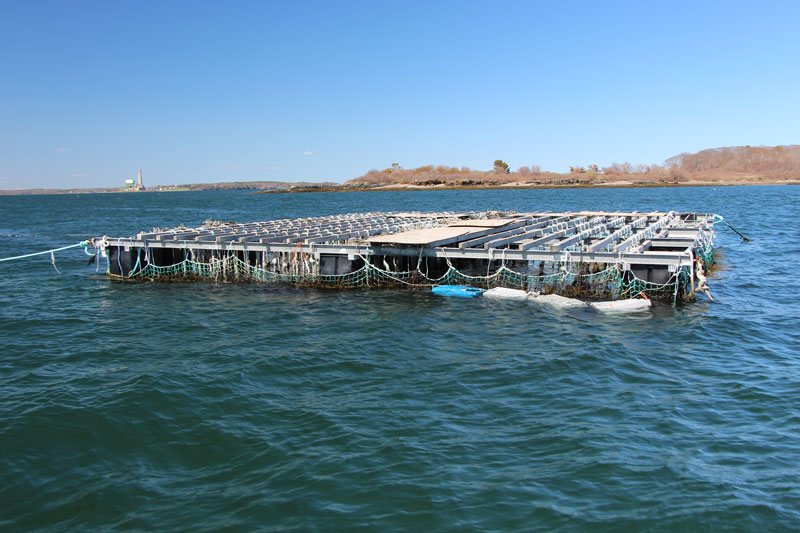 The marine aquaculture industry in Casco Bay is growing rapidly. Long-term leases doubled from 19 to 37 since early 2017, and Limited Purpose Aquaculture leases rose from 137 to 265.
See map below.
Photo: CBEP

Indicator K: COASTAL ACIDIFICATION
Monitoring of ocean pH by Friends of Casco Bay off Cousins Island found that shell is more likely to dissolve due to acidification during winter and spring, when corrosive conditions are most common, with potential negative effects on shellfish larvae.
See map below.
Photo: CBEP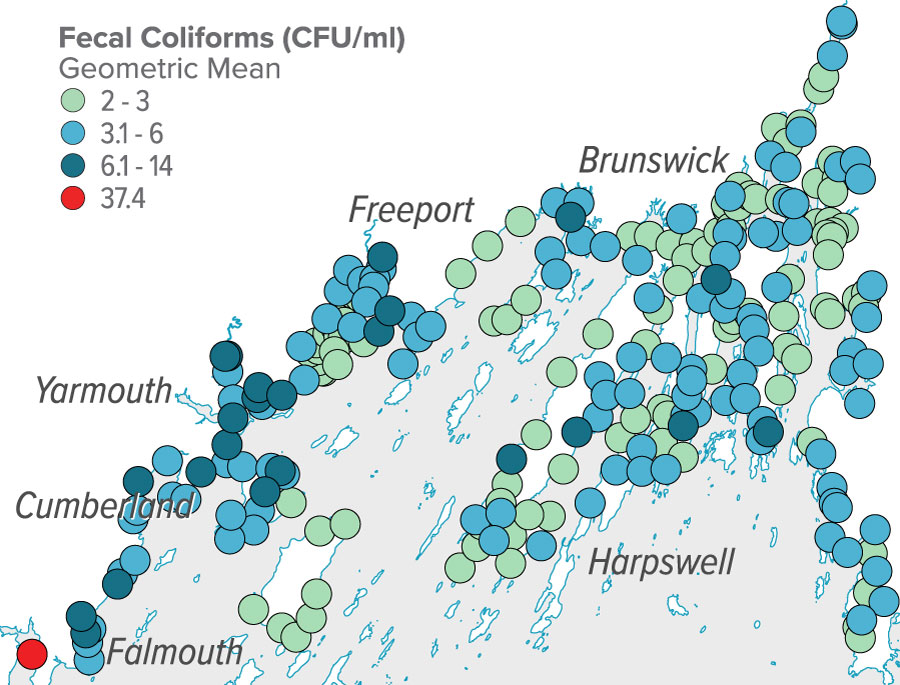 Indicator L: SWIMMING BEACHES & SHELLFISH BEDS
Maine Department of Marine Resources monitors fecal coliform bacteria in tidal areas with active shellfish harvesting to protect public health. Waters adjacent to Falmouth, Cumberland, and Yarmouth tend to have higher bacteria levels than waters of the Eastern Bay. Bacteria levels tend to be highest after rain, and during the warmest months.
Indicator E: CLIMATE CHANGE
Rising sea levels are causing much more frequent tidal flooding of coastal infrastructure around Casco Bay. Flooding is about three times more likely today than in the recent past. Coastal flooding could be eight times more frequent still under one more foot of sea level rise­ – meaning some sixty days per year.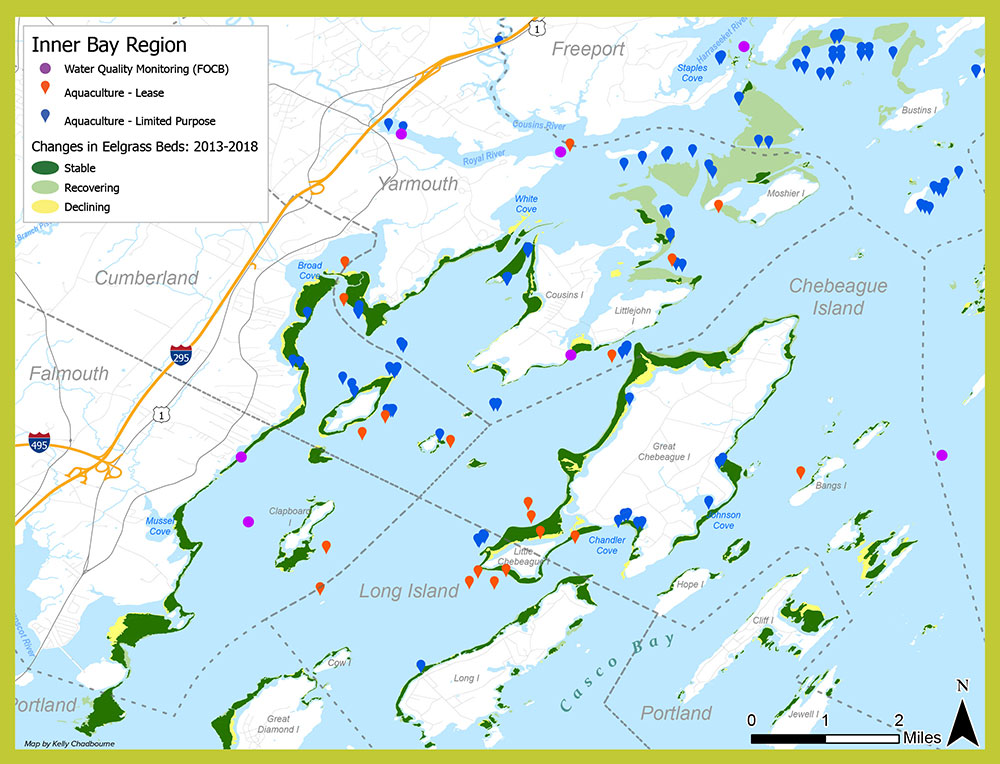 Education Programs
Organizations and educators in the Inner Bay region provide opportunities for residents to learn about and value their unique ecosystem. A sampling of community education efforts supported by CBEP over the past five years includes: "Horseshoe Crabs Come Ashore in Broad Cove on Chebeague" by Chebeague & Cumberland Land Trust; "Aquaculture Environmental Education on Long Island" by Island Institute; "Celebrate Our Royal River on World Fish Migration Day" by Royal River Alliance; "Inter-generational Investigation of Casco Bay Watershed" by Friends School; "Encouraging Pet Owners to Leave No Trace on Casco Bay Islands" by Maine Island Trail Association; "Shareable Art Lesson on Creatures of Casco Bay" by Yarmouth High School (as pictured); "Chebeague Island Aquaculture Festival" by Chebeague Island Community Association.
Photo: YHS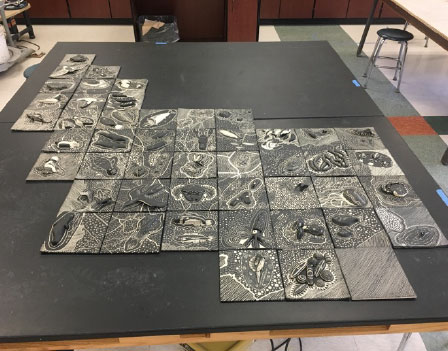 Marsh Conservation
Freeport Conservation Trust, Maine Coast Heritage Trust, and Royal River Conservation Trust are collaborating on a long-term initiative to protect the Cousins River including its shoreline, fields, high value aquatic habitat, and extensive marsh system. One of the purposes of protecting this ecosystem is that it will, if undeveloped, accommodate salt marsh migration in response to sea level rise. CBEP has provided funding support for this effort.
Photo: MCHT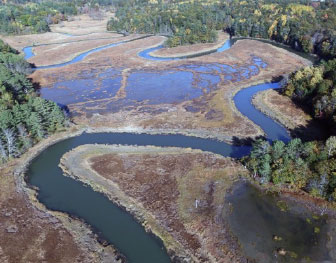 CONSERVED LANDS AND SUB-WATERSHEDS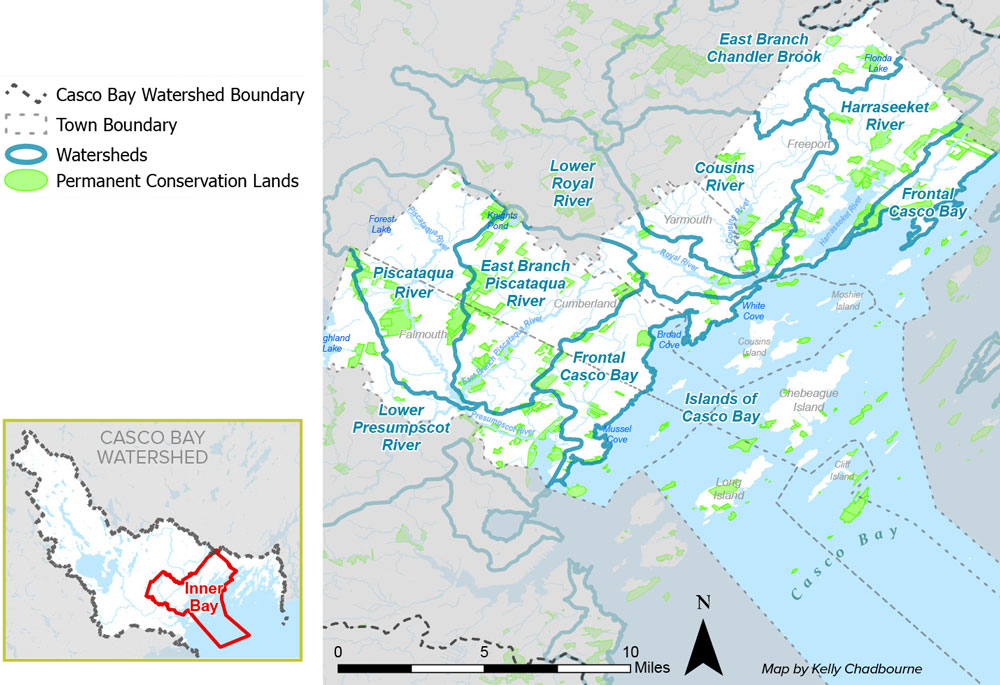 Managing Development for Water Quality
Urbanization is hard on water quality. Many pollutants are elevated near suburban areas, including bacteria and toxic contaminants. On the islands, conversion of homes from seasonal to year-round, and new construction, can affect coastal habitat and water quality. Remaining "overboard discharges" and underperforming septic systems prevent shellfish harvesting and put swimmers at risk. Local ordinances that protect wetlands and shorelines, encourage green infrastructure, reduce use of pesticides and fertilizer, and properly manage human waste can help the Bay.
Fostering Resilient Leadership
CBEP carries out quarterly Casco Bay Coastal Academy workshops to build the knowledge base of municipal boards and citizens about critical coastal issues, and to provide skills training to support project planning and implementation. Workshops are organized in partnership with Greater Portland Council of Governments, New England Environmental Finance Center (NE-EFC), and Cumberland County Soil & Water Conservation District. CBEP, NE-EFC, and Maine Department of Environmental Protection also provide climate resilience financing planning and implementation workshops for municipalities.
Supporting the Harvesting Economy
The Casco Bay Regional Shellfish Working Group's mission is to collaboratively address issues facing the wild-harvest shellfish community and to share expertise and best practices for management, conservation, research, and monitoring. The Group is developing a Community Intertidal Data Portal, an interactive online resource of data pertaining to intertidal ecosystem and shellfish resources. Septic tank data being collected from public records can prevent pollution from aging and poorly maintained systems.
Photo: Jerry Monkman, Ecophotography.com
View a PDF version of this page that can be downloaded and printed.
If you would like to receive a printed State of Casco Bay report, send an email request to cbep@maine.edu.
This document has been funded by the U.S. Environmental Protection Agency under Cooperative Agreements #CE00A00348-0 and #CE00A00662-0 with the University of Southern Maine.
Suggested citation: Casco Bay Estuary Partnership. State of Casco Bay, 6th Edition (2021).